How Astrakode's Private Blockchain Solution Helped Systema S.r.l. Improve Document Security and Privacy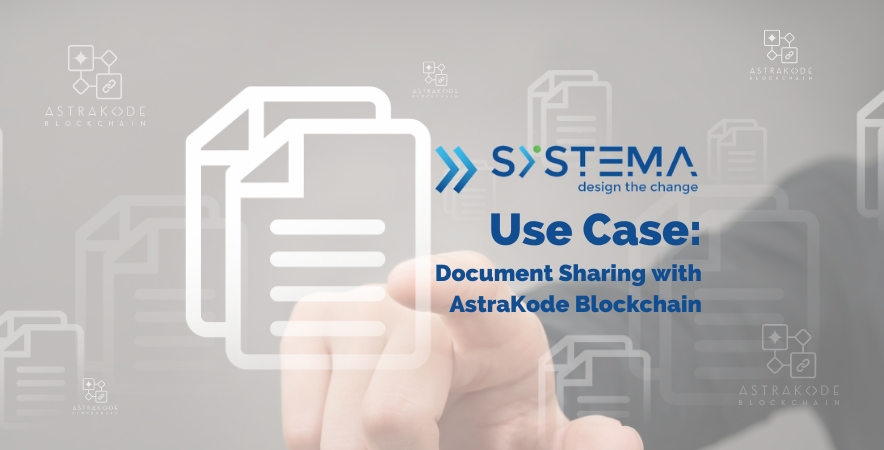 Sharing documents is a common practice in business, but the advent of blockchain technology has brought in a new layer of security and privacy. In this article, we will explore the benefits of sharing documents on private blockchains, and take a look at a real-life use case AstraKode has implemented to help Systema S.r.l. to improve their document management by using AstraKode Blockchain.
Benefits of Sharing Documents on Private Blockchains
The primary benefit of sharing documents on private blockchains is the added layer of security and privacy. Private blockchains allow for the encryption of information, ensuring that sensitive data is secure from external threats. Additionally, private blockchains provide permissioned access, meaning that only authorized parties can view the documents, and all transactions are visible only to the relevant participants. This ensures that documents are accessible only to those who are authorized to view them, thus enhancing data security and privacy.
Another advantage of private blockchains is their customization. Before designing a blockchain network, it is necessary to fully understand the needs that stimulate its implementation. For instance, a company that manages a relatively small number of customers and needs to introduce a higher level of security in document management can have a tailor-made blockchain solution that addresses its specific needs. With private blockchains like those created with the help of AstraKode Blockchain low code environment (read more about AKB Network Composer), businesses can design a blockchain network that best suits their requirements.
Real-Life Use Case AstraKode has implemented: Systema S.r.l.
Systema S.r.l., an Italian company that offers IT consulting and software development services, is a great example of a company that benefited from using a private blockchain. The company specializes in document management for BIM (Building Information Modeling) projects. It offers a system through which users, represented exclusively by companies, can upload, share, and download all documents and information related to a project. To add an extra layer of security in the management of documents, Systema srl adopted blockchain technology.
Using AstraKode Blockchain (AKB) platform, we collaborated with Systema S.r.l. to design and configure a bespoke blockchain network tailored to their specific needs. As the company is engaged in managing a relatively small number of customers, we decided to act at a modular level. Within the Hyperledger Fabric architecture, this was translated into the attribution of a single channel to each customer, in which the customer himself and the company participated. This ensured that communication was isolated and visible only to those who provided the service and to the single recipient of the same.
The screenshot provided above showcases a snapshot of a network created using AstraKode's Blockchain (AKB) platform. In this example, the company is managing two clients, and each client is associated with a channel* and a peer**. 
Notably, Systema's peer is connected to both channels, which is sufficient for the present scenario. However, to ensure optimal performance and redundancy, it's recommended to have additional peers in the provider organization for a larger number of clients.
To gain a comprehensive understanding of the configuration process for this use case, we highly recommend checking out our demo video, "How to build a blockchain network for document sharing with AKB". This video includes step-by-step guidance on all the essential steps involved.
Creating a similar use case tailored to your specific requirements is easy with AstraKode Blockchain (AKB) platform. Simply register for free now by creating your own project on the platform and start customizing!
Here is a brief comment from Systema S.r.l.:
"The support offered by AstraKode has allowed us to integrate in our BIMSp@ce Framework the countless functionalities of a Private Blockchain. In fact, we have integrated the management of the Building Information Modelling process with this technology, giving shape to our LockChain, a very sophisticated tool that allows us to secrecy the documents related to the BIM process, making them not only private, but also absolutely secure as they are encrypted. The spirit of innovation and avant-garde in the field of everything related to digital, brings Systema S.r.l. and AstraKode to explore increasingly challenging territories and forge partnerships in search of the best solutions available to respond to a constantly evolving market".

Costantino Manes — Digital Project Manager Systema S.r.l.
Adoption of Private Blockchains in Other Industries
The use case of Systema S.r.l. demonstrates the potential of private blockchains in document management, particularly for B2B companies. However, private blockchains can be adopted in various industries that require secure and private document sharing. For instance, the healthcare industry can use private blockchains to ensure the privacy of patient data, while the legal industry can use it for secure document sharing and smart contracts. In short, any industry that requires secure and private document sharing can benefit from private blockchains.
Discover how blockchain is transforming industries like finance, healthcare, energy, retail, media, and more by visiting our Use Cases page, where you'll find a range of real-world applications that highlight the platform's versatility and potential.
Conclusions
In conclusion, sharing documents on private blockchains can add an extra layer of security to document management, making it only visible to the relevant customer. AstraKode Blockchain provides a customizable solution for businesses that need to introduce a higher level of security in their document management. The Network Composer feature of AKB allows for easy and fast design and configuration of Hyperledger Fabric blockchain networks.
The successful use case of AKB for Systema S.r.l. demonstrates the potential benefits of blockchain technology in the document management industry. The adoption of this project in other industries can lead to increased efficiency, lower costs, and better security.
Need help integrating blockchain into your processes? Contact us and we'll have one of our specialized consultants talk to you.
If you are interested in exploring the possibilities of AstraKode Blockchain, you can visit our website and register to the AKB platform. You can also check out other Use Cases pages on the website to learn more about how AKB can be used in various industries.
We are proud of our experience with Systema srl and the success of the project. As a company, we are committed to providing the best solutions for our clients and continue to work towards improving and advancing blockchain technology.
*a channel is like a private communication 'subnet' that only allows specific client organizations to share data
**a peer is a part of the network that manages ledgers and runs chaincode containers to perform read/write operations on the ledger it maintains
Visit our WIKI page which contains a first introduction to each component and instructions for the configuration here.