How does it work?
Design
Design your own blockchain network with no coding in a few clicks.
Thanks to the platform's visual environments based on the low-code approach, the creation of your blockchain solution has never been so easy and fast!
Test
A Faster & Easier Way To audit and test Your Blockchain Solutions
To solve another critical pain point of blockchain development, the platform provides assisted testing functionalities and automated testing (TBD).
Deploy
Assisted Deployment
Next to downloading the code locally, the platform provides assisted deployment functionalities to help you seamlessly deploy your solution to your cloud provider (TBD).
AKB Roadmap
AstraKode Blockchain Major Update
Premium Features
AstraKode Blockchain Major Update
Template Marketplace
AstraKode Blockchain Major Update
Assisted Deployment and Testing Suite
AstraKode Blockchain Major Update
Additional Tech Compatibility (e.g. Corda, Algorand)
AKB Community
Our community of blockchain developers and enthusiasts is open to discuss the technology and get the latest news about AstraKode Blockchain. The community will also provide you with access to valuable content such as guides and tutorials, technical articles, and much more!
AKB Community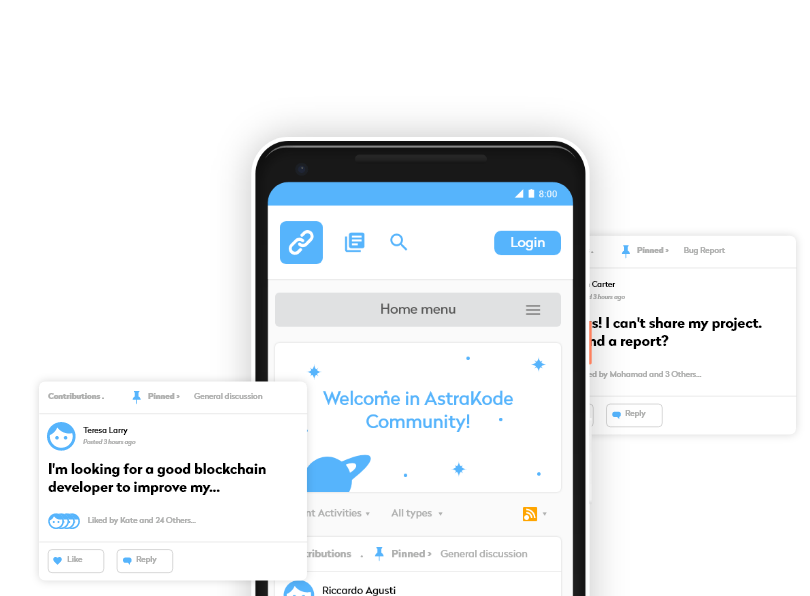 AKB FAQs
What's the difference between AKB and other blockchain development platforms?
There are several differences between AstraKode Blockchain (AKB) and other blockchain development platforms:
1) AKB is primarily focused on enterprise blockchain solutions.
2) AKB is an all-in-one platform, meaning that it aims to tackle the full enterprise blockchain solution development cycle. However, any functionality can also be utilized standalone.
3) Through its easy-to-use visual development environments, AKB provides an unprecedented level of abstraction to (blockchain) network and smart contract development. This means that the platform not only functions as a productivity tool for domain experts but also as an enabler for citizen developers.
What blockchain technology is the platform based on?
AstraKode Blockchain (AKB) is not based on any specific blockchain technology per se, but rather is able to produce solutions that are based on a specific technology.
The starting technology of choice is Hyperledger Fabric, meaning that AKB is natively able to produce Hyperledger Fabric networks and smart contracts. In the future, we are planning to include other popular enterprise blockchain technologies (e.g. R3 Corda or Quorum), as well as Solidity-based smart contracts.
How can I learn to use the platform?
Next to the automated guided tours, inside the platform or in the platform's community, users can find a wealth of resources to get started. Furthermore, within the platform's development environments one can find contextual links to the platform's Wiki for each relevant component/functionality.